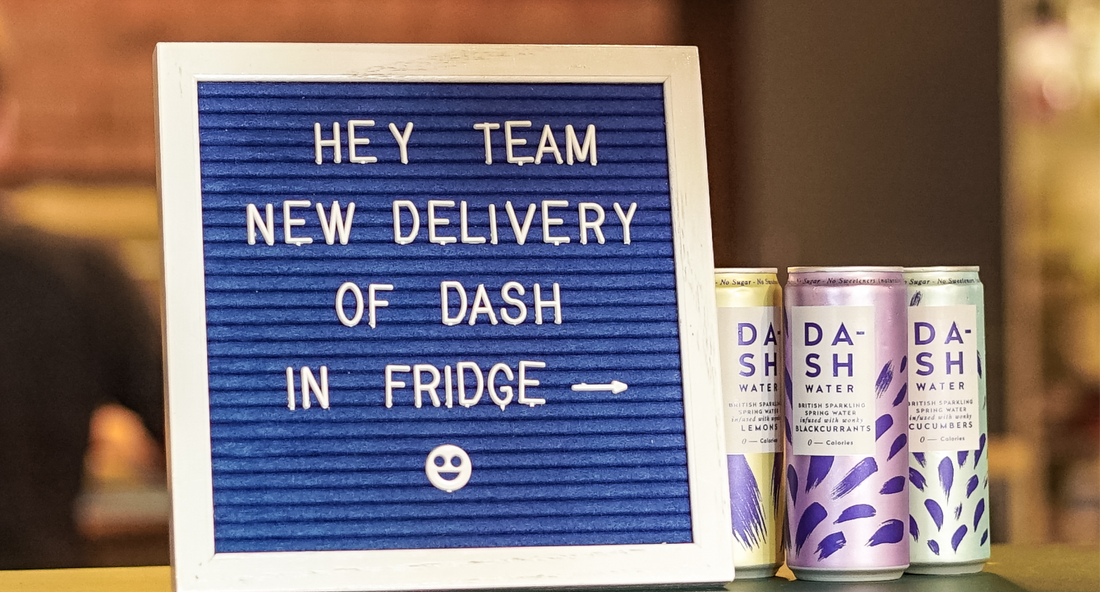 There's nothing like a tasty treat to get you through a hard day's work, which is why so many workplaces now provide their employees with fun drinks and snacks. Whether we're brainstorming big ideas, surviving marathon meetings, or just getting through the daily grind, a little pick-me-up can make all the difference.
If you're wondering what treats to add to your office drink station, or you're in need of something to spruce up your packed lunch, we've put together a list of the best office drinks that will perk up your day. From morning coffees right through to after-work drinks, these are the drinks your whole team will love. Because let's face it, a hydrated team is a happy team, and happy teams get things done! 
How to choose the best drinks for the office 
Selecting the ideal drinks for your office isn't just about quenching thirst, it's also about creating a positive environment that fosters productivity and well-being.  First and foremost, consider the diversity of your team's preferences. A mix of caffeinated and non-caffeinated options caters to various energy levels and dietary preferences. Think about the purpose of the beverages – do you need an energy boost for a brainstorming session, a calming drink for a team huddle, or something hydrating to sip on throughout the day?
Next, factor in the seasons; refreshing iced teas may be perfect for summer, while cosy hot chocolate might be a winter favourite. Don't forget about practicality – opt for drinks that are easy to prepare and won't disrupt the workflow. Finally, encourage feedback from your team. Whether it's through a quick survey or informal chats, understanding their preferences ensures that your office drink selection is a hit. Remember, a well-chosen array of beverages isn't just about hydration; it's a recipe for a happier and more engaged team. 
List of the Best Office Drinks
High Quality Coffee - We're kicking it off with an obvious one, but coffee is a must. And it should be great coffee! If you don't already have one, consider a coffee machine (pods make it super easy and quick) and try to provide a range of milk and syrup options.
Fruit Infused Sparkling Water - Cans of flavoured sparkling water are a perfect office drink because they're a satisfying treat, while still being super hydrating and free from sugar or sweetener. Plus cans are so easy to refrigerate and grab. 
Coconut Water - Not only is coconut water a delicious thirst quencher, it's also brilliant brain fuel because it's so hydrating and packed with electrolytes (BBC Good Food).
Matcha Lattes - Matcha lattes are all the rage right now, so your team are sure to appreciate having the hot new drink at their desk. All you need is matcha tea powder and frothy milk. 
Herbal Teas - Create a calming atmosphere with a selection of herbal teas. From soothing chamomile to invigorating peppermint, there's a flavour for every mood.
Fresh Fruit Water - If you have a water dispenser at work, why not provide additional dispensers that are garnished with fresh fruit like lemon, cucumber or apple? 
Mocktail Mixer Bar - Turn your office into a trendy mocktail lounge with a selection of non-alcoholic mixers, fresh fruits, and garnishes. Perfect for celebrating achievements or entertaining clients.
After Work Drinks 
Hosting drinks after work is the perfect opportunity for team members to unwind, share stories, and bond after a hard day's work. Whether you're celebrating a successful project, commiserating over challenges, or simply enjoying the company of your colleagues in a more relaxed setting, after-work drinks create a space for natural team building. 
If you're hosting office drinks after work but aren't sure what to serve, here are a few suggestions to help you please the whole team:
Craft Beer Selection - Appeal to beer enthusiasts with a variety of craft brews, providing a diverse selection to suit different tastes.
Wine and Cheese Pairings - To elevate after-work drinks with a sophisticated touch, why not offer a selection of wines paired with an assortment of cheeses?
Mocktail Bar - Create a vibrant and inclusive atmosphere with a mocktail mixer bar, allowing everyone to enjoy delicious non-alcoholic beverages.
Spritz Station - Spritzes such as Aperol Spritz and Hugo Spritz are easy cocktails to serve at work drinks because they're easy to make in batches and tailor to each person's taste. What's more, they can be topped with as much sparkling water as you like if you need to keep things tamer. 
High Quality Soft Drinks - It's common for non-alcohol drinkers to feel a bit neglected during after-work drinks because all the focus goes into picking out the alcohol. To avoid this, be sure to have some really special soft drinks so it feels like a treat for everyone. 
Office Drink Delivery 
To make sure your office drinks station stays well stocked there are many drinks companies that offer bulk drink subscriptions. Coffee companies such as Nespresso and Grind offer coffee subscriptions, while here at DASH, we offer soft drink subscriptions across all our sparkling water. 
Currently, DASH Water is a staple in many office fridges because it's available in a range of tasty flavours, plus its all-natural ingredients mean there are no sugar, sweeteners or calories. It can also be used as a tasty mixer to cater for after-work drinks. Buy your
DASH Water in bulk
today or
start your subscription
.