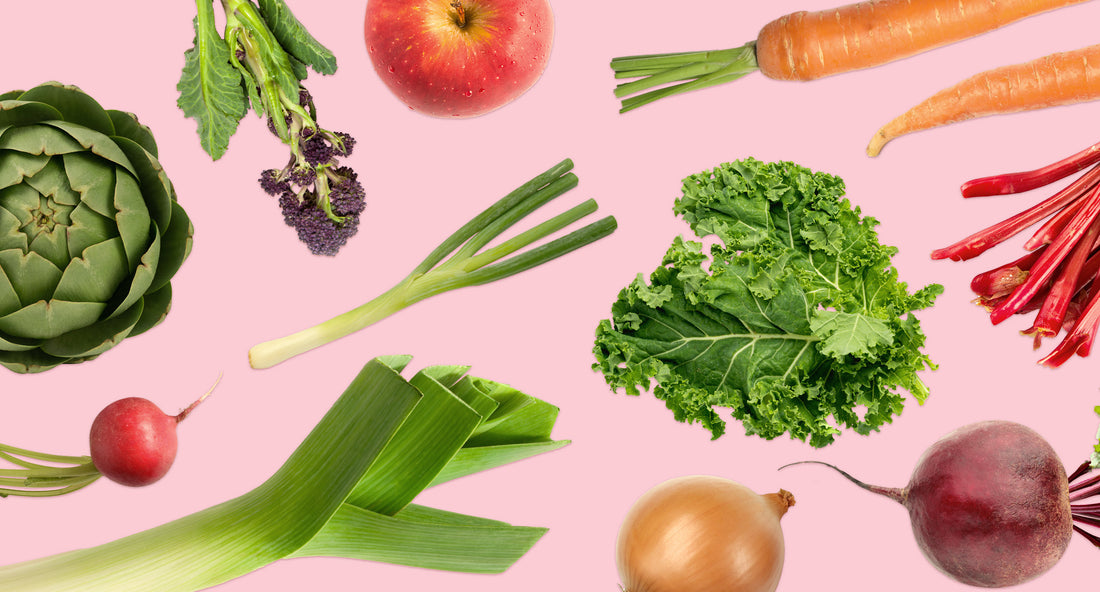 Goodbye winter, hello fresh veg - at last, the growing season is upon us.
At DASH we like to know what's in season because eating what is ready right now is one of the best ways to help reduce food waste. 

We believe that actions speak louder than words, which is why we hope to empower others to have a positive impact through the example that we set. It is only by working together and at a national and global scale that we will create meaningful change in the fight against food waste.

So why not stick to this seasonal tasty fruit and veg each month to make sure you're doing your bit for the planet and your taste buds:

January 
Brussel Sprouts
Carrots
Cauliflower
Kale
Parsnips
Savoy Cabbage
Swedes

February
Brussel Sprouts
Cauliflower
Kale
Leeks 
Parsnips
Purple Sprouting Broccoli
Savoy Cabbage

March
Cauliflower
Forced Rhubarb
Kale
Leeks
Purple Sprouting Broccoli
Savoy Cabbage

April 
Asparagus
Rhubarb
Purple sprouting broccoli
Spring cabbage
Spring onions

May 
Asparagus
Lettuces
Radishes
Rhubarb
Spinach
Spring cabbages
Spring onions

June
Baby carrots
Broad beans
Chard
Cherries
Courgettes and summer squash
Currants
Gooseberries
Lettuce
Parsley
Radish
Redcurrants
Raspberries
Rhubarb
Rocket
Spinach
Spring cabbage
Spring onions
Strawberries

July
Apricots
Beetroot
Blueberries
Blackcurrants
Cabbage
Carrots
Cherries
Courgettes and summer squash
Cucumbers
Fennel
French beans
Gooseberries
Lettuce and other salad leaves
New potatoes
Peaches
Peas and mangetout
Radish
Raspberries
Runner beans
Spinach
Spring onions
Strawberries
Tomatoes

August
Apricots
Aubergines
Beetroot
Blackberries
Blackcurrants
Blueberries
Broccoli
Cabbage
Cauliflower
Carrots
Celery
Chard
Courgettes and summer squash
Cucumbers
Fennel
French beans
Lettuce and other salad leaves
Peas and mangetout
Peppers and chilies
Peaches
Plums
Potatoes
Raspberries
Redcurrants
Runner beans
Spring onions
Sweetcorn
Tomatoes

September
Apples
Autumn-fruiting raspberries
Beetroot
Blueberries
Broccoli
Cabbage
Cauliflower
Carrots
Celery
Chard
Courgettes and summer squash
Cucumbers
Fennel
Figs
French beans
Lettuce and other salad leaves
Pears
Peppers and chillies
Plums and damsons
Potatoes
Runner beans
Spinach
Sweetcorn
Shallots, onion and garlic
Tomatoes

October
Apples
Beetroot
Broccoli
Cabbage
Carrots
Cauliflower
Celeriac
Celery
Chard
Chillies
Jerusalem artichokes
Kale
Leeks
Marrow
Pak choi
Parsnips
Pears
Rocket
Spinach
Swede and turnip
Winter squash and pumpkins

November
Apples
Carrots
Cabbages
Cauliflower
Kale
Leeks
Parsnips
Pears
Potatoes

December
Brussel sprouts
Carrots
Cauliflower
Kale
Leeks
Potatoes
Savoy cabbage