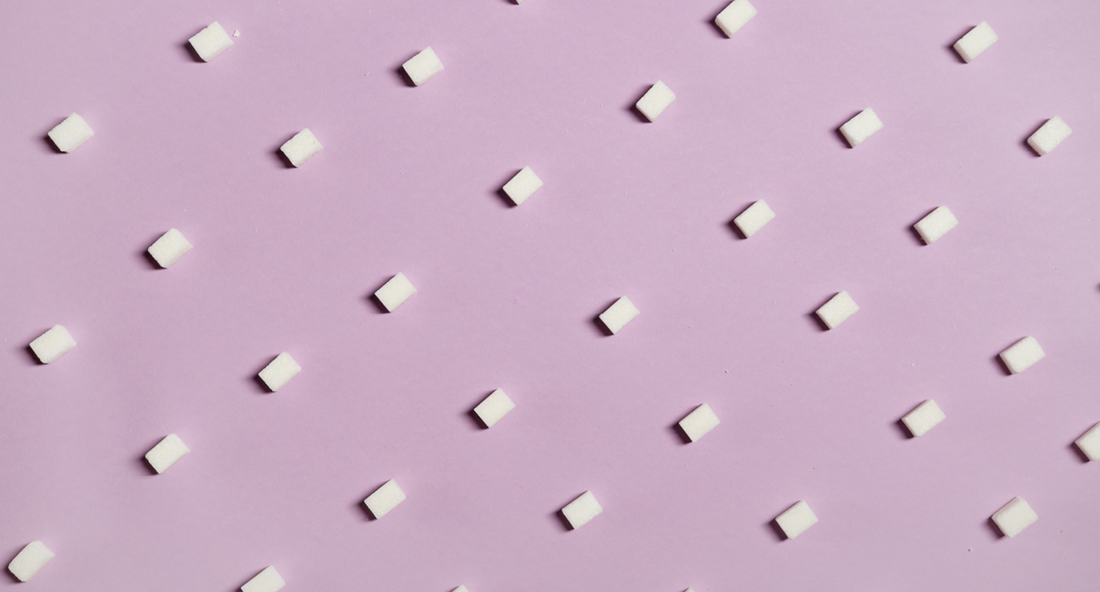 Aspartame, pronounced 'a-spar-tame', is a low-calorie artificial sweetener widely used as a sugar substitute in various food and beverage products. It's a chemical compound composed of two amino acids: phenylalanine and aspartic acid, joined together with a methyl ester group (National Library of Medicine). 
Aspartame is about 200 times sweeter than sucrose (table sugar), allowing only a small amount to be used to achieve the desired level of sweetness. It's commonly found in sugar-free soft drinks, chewing gums, desserts, and other processed foods labelled as 'diet' or 'light'.
Due to its intense sweetness and negligible caloric content, aspartame has frequently been used to control body weight, however 2023 guidance from the World Health Organisation (WHO) no longer recommends this. 
Is Aspartame Safe?
Aspartame continues to be approved safe in the UK by the Food Standards Agency, however WHO no longer recommends using it as a means to control weight, along with other artificial sweeteners. That's because it's been found that while sweeteners help reduce weight gain in the short term, the opposite can be said in the long term (WHO). 
As well as this new recommendation, WHO investigated whether aspartame was potentially carcinogenic. With health assessments by the International Agency for Research on Cancer (IARC) as well as the Joint Expert Committee on Food Additives (JECFA), the research categorised the hazard as a possibility due to limited evidence.
Dr Francesco Branca, Director of the Department of Nutrition and Food Safety, WHO, said:
 "The assessments of aspartame have indicated that, while safety is not a major concern at the doses which are commonly used, potential effects have been described that need to be investigated by more and better studies."
The bodies have therefore called for more studies and state that they'll be continuing to monitor new evidence. 

Which Food and Drink is Aspartame Found In?
Aspartame is often used in sugar-free or reduced-calorie products to provide sweetness without adding extra calories. The sweetener can be found in fizzy drinks, powdered drink mixes, flavoured water, and some fruit juices labelled as 'diet' or 'light'.
Additionally, aspartame is a common ingredient in sugar-free chewing gums, sweets and desserts, such as ice cream and gelatin. Processed foods marketed as 'diet' often contain aspartame to enhance their flavour without the addition of traditional sugars. 
Although aspartame is a very common ingredient that appears in many popular products, it's important to note that it is not a necessity in sugar-free drinks. In fact, there are still many sweet-tasting zero-calorie drinks available with healthier ingredients than aspartame or sugar. 
Aspartame-Free Drinks 
It's always best to check the labels to see which drinks are sweetener free, but as general guidance, you can expect the following to be free from aspartame: 
Fruit infused water - Still or

sparkling water with natural flavouring

, such as fruit, can be aspartame-free.

Natural Fruit Juices - Look for 100% fruit juice with no added sweeteners or artificial ingredients.

Herbal Teas - Many herbal teas are free from artificial sweeteners like aspartame.

Unsweetened Iced Tea - You can find various brands offering unsweetened iced tea options.

Coffee - Black coffee or coffee with natural sweeteners like sugar or honey is aspartame-free.

Coconut Water - Natural coconut water is usually free from artificial sweeteners.

Almond Milk - Check the label to ensure it does not contain aspartame or other sweeteners.

Soy Milk - Some brands offer aspartame-free soy milk options.

Oat Milk - Look for oat milk with no added sweeteners or aspartame.

Rice Milk - Certain rice milk brands may be aspartame-free.

Sparkling Water with Natural Flavors - Some sparkling water brands offer products without artificial sweeteners.

Lemonade - Traditional lemonade made with lemons, water, and sugar should be aspartame-free.

Freshly Squeezed Fruit Smoothies - When made without added sweeteners, these are typically aspartame-free.

Vegetable Juices - Check the label to ensure there are no added sweeteners or aspartame.

Kombucha - Some kombucha brands may offer products without added artificial sweeteners.
Here at DASH, we're passionate about the simple, natural ingredients that our drinks are made of, so you'll never find aspartame or any artificial sweetener in our sparkling water. Just spring water, bubbles and real, wonky fruit.
Aspartame vs Sugar
Aspartame and sugar are two commonly used sweeteners, but they differ significantly in their composition and impact on health. Sugar, or sucrose, is a natural carbohydrate found in various foods and beverages. It provides a sweet taste and a quick source of energy. However, consuming excessive amounts of sugar has been linked to weight gain, tooth decay, and an increased risk of various health conditions (NHS).
Aspartame, on the other hand, is an artificial sweetener that is much sweeter than sugar and has virtually no calories. It is commonly used as a sugar substitute in low-calorie and diet products. While aspartame is generally considered safe for consumption, WHO no longer recommends it as a means for weight control and also warns against possible health risks. Overall, both sweeteners have their advantages and drawbacks, and moderation is essential when incorporating them into the diet.
To find out more, you can read our guide to sweeteners or read DASH's mission to use only natural ingredients. You can also shop our sparkling water which always has no sweetener, sugar or calories.