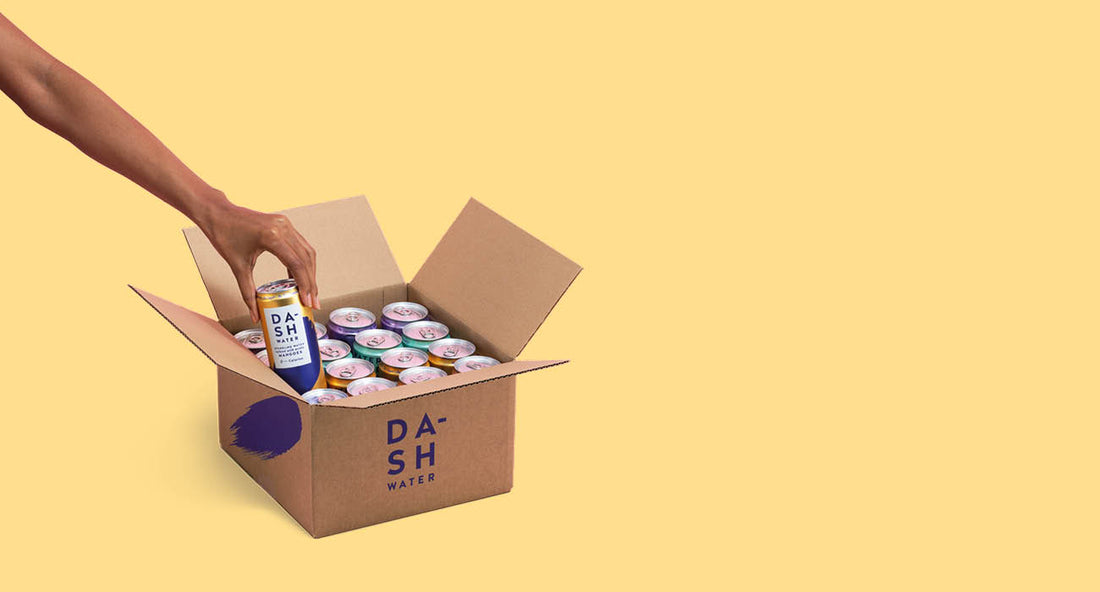 Soda water and sparkling water bear striking similarities and there's often a lot of confusion between the two. But what actually is the difference between the two fizzy waters? And can one be used to replace the other? In this DASH guide, we answer everything you need to know about sparkling water and soda water, so you know exactly which one to reach for.  
What is the difference between soda water and sparkling water?
Both soda water and sparkling water are made by infusing still spring water with carbon dioxide under pressure, creating the fizz. However, soda water is further infused with bicarbonate of soda to help the drink hold its bubbles when spirits are added. This means soda is slightly fizzier than sparkling. 
Sparkling water is made from:
- Spring water
- CO2


Soda water is made from:
- Spring water
- CO2
- Bicarbonate of soda  
Do sparkling water and soda water taste the same?
Sparkling water and soda water have a very similar taste, but because soda water contains sodium bicarbonate to make it fizzer, the taste is ever so slightly sharper. However, the taste difference is so subtle that it's easy to substitute one for the other.  
Which is healthier, soda water or sparkling water?
Sparkling water and soda water have very little difference in nutritional value, so one isn't necessarily better than the other. Both are zero calories, sugar and sweetener, making them safe for diabetics and great fizzy drink alternatives for kids. 
If you're looking for a healthy flavoured sparkling water or soda water, it's a good idea to check that these flavourings don't contain any sugars or sweeteners, as this is when things can get a little unhealthier. Flavoured sparkling water like DASH's is a good choice because it's infused with real fruit.  
Can you use sparkling water instead of soda water?
So we know that there is a difference between sparkling water and soda water, but does that make it harder to swap one for the other in cocktail recipes? The answer is no! You can still make the same drinks with sparkling water as you can with soda. 
Though soda water's super fizziness means it holds alcohol better, sparkling water can still be used as a mixer. Classic spirits like vodka and gin can be paired with sparkling water to make a refreshing drink that's a lot softer than a soda mixer. Fruit sparkling water is also a delicious way to spruce up a spritzer, especially when with wine or Aperol, like in our Peach Rosé. 
What kind of delicious drinks do DASH Water offer?
Here at DASH, we're pretty much carbonated water experts. We offer a range of tasty, flavoured sparkling water - from classic lemon to unique mango - that are all free from calories, sugars and sweeteners. All of our drinks are infused with real, wonky fruit that others say no too, because it's our mission to combat food waste. 
We've recently discontinued our infused soda water to focus on creating more of your favourite sparkling flavours. But if you're a DASH soda fan, fear not! Lots of our soda waters are super similar to our sparkling water:
If you liked DASH Bitter Orange & Grapefruit Soda, try Mango Sparkling Water
Just like orange and grapefruit soda, mango sparkling water has a fruity zing and pairs perfectly with gin. Try it with a slice of citrus for a special serving. 


If you liked DASH Limes & Garden Mint Soda, try Cucumber Sparkling Water 
Best served in a pitcher with heaps of ice, lime and mint infused soda water puts us in the same garden party mood as cucumber sparkling water does. Try a cold can of this for the ultimate refreshment. 


If you liked DASH Rhubarb & Fiery Ginger Soda, try Raspberry Sparkling Water
Mixing rhubarb and ginger soda water with gin is a match made in heaven. But so is gin and raspberry sparkling water! The subtle sweetness of the raspberries balances out the sharpness of spirits to make a moreish cocktail you won't be able to stop sipping. 
Shop DASH's sparkling water today or find out more about carbonated water by browsing our blog.