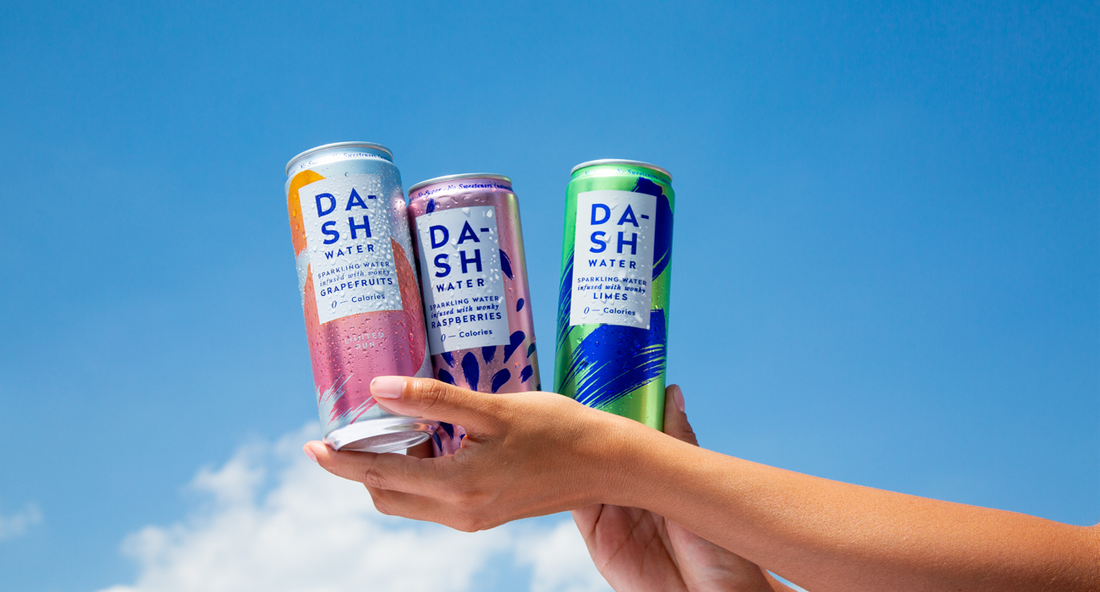 As we know, diet coke contains the sweetener aspartame, which is responsible for the drink's sweet taste without the calories. However, the World Health Organisation no longer recommends aspartame as a suitable sugar substitute to maintain a healthy weight.
In fact, artificial sweeteners have been subject to debate for quite some time, so it's only natural that many people are now looking for an alternative to diet coke. There are many tasty zero calorie drinks and sugar free drinks that can help fix your fizzy drink cravings, with much more natural ingredients. 
If you're looking for a tasty, healthier alternative to diet coke, it may be hard to know what to look for. Especially because so many fizzy drinks come with a very long ingredient list! That's why we've put together a list of our favourite diet coke replacements. 
The Best Alternatives to Diet Coke
Fruit infused sparkling water
One of the best alternatives to diet coke is fruit infused sparkling water, just like DASH's. Still just as fizzy and tasty, the real fruit flavours the drink naturally, so there's no need for added sugar or sweeteners. What's more, sparkling water is super hydrating and counts towards your eight glasses a day. 
Cola from other brands 
Cola from the big brands come with a very long ingredient list with additives that we often don't recognise. There are however, smaller, lesser known brands that create cola with simple ingredients, such as Karma Cola, who are big on sustainability too. These drinks do still contain sugar, however ingredients are a lot more natural and better for our bodies as an occasional treat. 
Homemade lemonade 
Making lemonade at home is a good alternative for diet coke because you can control the ingredients that go into it. Yes, it contains sugar, but you'll be able to see exactly how much goes into it so you're able to ensure your diet is balanced. 
Iced tea 
Iced tea made from tea bags or tea leaves can be a healthy alternative to diet coke because it's sugar and sweetener free. It can be just as refreshing when served over ice and garnished with fruit.
Kombucha 
Kombucha is made from fermented tea, bacteria and yeast, as well as a very small amount of sugar. Good for your gut, it has a lot of antioxidants and is thought to reduce inflammation. It's a good replacement for diet coke because it still has a delicious flavour with a slight kick, but of course is a lot healthier. 
How to find a replacement for diet coke
When looking for a good alternative to diet coke, it's best to look for drinks that contain all natural ingredients, with no sugar, sweetener or artificial additives. There's no need for drinks to contain a huge list of ingredients, so if there seems to be more than five-ish, it might be best to keep looking. 
Try to keep an eye out for new drinks brands, as there are lots out there who are committed to natural, simple ingredients. It's often these brands who are much more sustainable too, just like DASH! 
Shop DASH's sparkling water now for a tasty alternative to diet coke, or learn more about the ingredients we use. You can also read more of our handy guides, including the best drinks for diabetics and healthy drinks for kids.