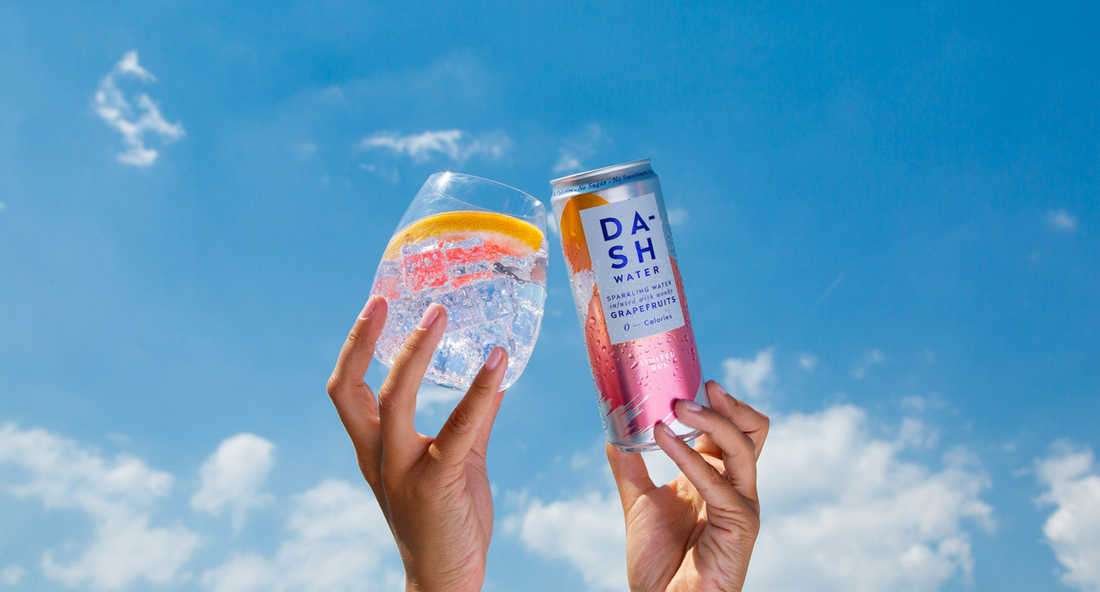 With more and more tasty flavours on the market, from zingy lime to mouthwatering mango, sparkling water's glow up is converting even the most anti-sparkling sippers. By now, we know that sparkling water is delicious - especially flavoured sparkling water - but are there any other perks?
From keeping you hydrated to making a delicious mixer, there are countless sparkling water benefits - some of which might surprise you! To help you learn more, we've listed some of the most important and interesting. 
12 Sparkling Water Benefits
1. Hydration: Sparkling water is still water that has been infused with carbon dioxide gas to create bubbles. This makes it just as hydrating as regular water, which is essential for maintaining bodily functions and overall health (BBC Science Focus)
2. Zero Calories: Plain sparkling water and some flavoured sparkling water, such as DASH's, contain no calories, sugars, or artificial sweeteners. Opting for sparkling water instead of sugary sodas or juices can help reduce calorie intake, making it a useful tool for weight management.
3. No Artificial Sweeteners: The World Health Organisation now discourages the use of artificial sweeteners as a means of weight control, particularly the use of Aspartame. A major sparkling water benefit is that it's free from artificial sweeteners. 
4. Refreshing Taste: The effervescence of sparkling water provides a crisp and refreshing sensation, making it a satisfying drink on hot days or when looking for something different from still water.
5. No Caffeine: Sparkling water is caffeine-free, making it a suitable option for those looking to limit their caffeine intake, especially in the evening or before bed.
6. Flavour Variety: Many brands offer flavoured sparkling water options that contain natural fruit essences, which can provide a burst of flavour without the added sugars found in many flavoured beverages.
7. Teeth Health: While the acid in some carbonated drinks can erode tooth enamel, sparkling water is generally less acidic than sodas and is less likely to contribute to dental erosion (Colgate).
However, flavoured sparkling water is still more acidic than still water, so it's important to be mindful. Try to keep an eye out for sparkling water with a higher PH scale. For example, DASH has a PH of 2.9-3.4, whereas most fizzy drinks have a PH of 2.4-2.7. The higher the PH, the less acidic it is. 
8. Mixing Potential: Sparkling water can serve as a base for creating various refreshing and flavorful drinks. It can be combined with juices, herbs, fruits, or even a splash of your favourite non-alcoholic beverages to create unique and enjoyable concoctions.
9. Alternative to Sugary Drinks: Drinking sparkling water instead of sugary beverages can help reduce the risk of obesity, type 2 diabetes, and other health issues associated with high sugar consumption (NHS). 
10. Child friendly: Sparkling water is a great healthy drink for kids due to its lack of sugar, calories and sweetener. It can also be a popular choice among little ones too, as they feel like they're getting a fizzy fix without the negative effects.
11. Safe for diabetics: Sparkling water is a good choice for diabetics as it's completely sugar free.
12. Sustainable: B-corp sparkling water brands, such as DASH, make sustainable sparkling water with recyclable packaging and low energy. Here at DASH, we also flavour our water with wonky fruit to help reduce food waste. 
With so many benefits, it's no wonder sparkling water is a popular choice. With its refreshing taste and zero-calorie content, it's a guilt-free alternative to sugary drinks and calorie-laden beverages. What's more, sparkling water is just as hydrating as still water, helping maintain overall health. 
If you're seeking a hydrating, flavourful, and enjoyable drink, incorporating sparkling water into your routine could be a refreshing addition to a balanced lifestyle. Shop
infused sparkling water
from DASH or read our guide to learn more about
carbonated drinks
.